ALPINE SKI OVERVIEW 19/20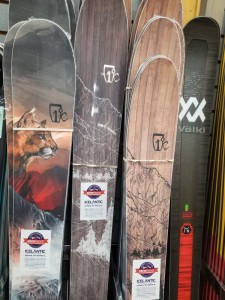 Every February our team of testers gets to demo next year's skis. We always hope for a mix of snow conditions so that we can have a thorough test. This is very important, as we feel that versatility is the single most important trait in any ski, especially for skiing on Mammoth Mountain. Of course, we expect a midfat like the Blizzard Bonafide to be pretty good in just about any snow condition, but we like to see how well a Rossi Soul 7 HD holds up on ice, or how a Head Rally does in mush.
Last year was a good winter for Mammoth and conditions at Trade Fair were prime for testing. We spent most of our time lapping Chairs 2 and 3 with frequent side trips up 23 and the Gondola. Up top was a mix of windblown packed powder and firmer snow, while Chair 3 offered more bumps and crud along with nice groomed runs to the bottom.
A one-ski quiver is an oxymoron, but most of us have a budget, so here it is. We like the versatility of a ski with a waist width of around 90-100mm, moderate rocker and metal laminate construction. This width is a good compromise between on and off piste skiing. The metal keeps it grippy on hard snow, and gives it a smooth powerful feel. A ski without metal layers is more playful and forgiving, but has its limits at speed on firm snow. At the 90ish side, you get a ski that carves well on the groomed, but is also quite apt at moguls and crud. The wider end of the spectrum is not as nimble or carvey, but has better crud and powder performance. Of course, if you rarely leave the groomed runs, prefer quick turns or just live for moguls your choice may lean towards a carve ski with a waist in the 85mm range. Conversely, if you spend all day in search of off piste adventures your ski of choice might be over 100mm wide underfoot. Either way, you may want to travel with one versatile pair of skis, and demo others if conditions warrant. Visit our Ski Boot Page.
Two Skis Get It Done
Things get better when we have two skis. Most of our team prefers to complement their all-mountain (90-100mm) ski with a more rockered fat (110+mm) ski. This gives us a very versatile main ski, with a true powder ski to maximize the fun factor on those epic freshies. Some of us ski our fat skis as often as our all-mountain skis, while some just break them out for the big days. The rockered fat ski is also very useful in soft spring conditions and backcountry skiing. Some testers, especially those who love moguls or carving would go for a narrower.
The Quiver
A true quiver begins at three or four skis. This allows you to be prepared for any condition or situation, and can give you some serious bragging rights. Let's look at one employee's quiver and see what happens when you work at a ski shop and have an extra room in the house.
163cm K2 Ikonic 80Ti 80mm waist carve ski
163cm K2 Shreditor 92 85mm waist all-mountain twin tip
163 K2 Mamba 244 Competition mogul ski
170 K2 Pinnacle 95 all mountain
163 K2 Talkback 96mm waist alpine touring ski
169cm K2 Shreditor 102 versatile twin tip
179cm K2 Shreditor 112 versatile powder ski
165cm Rossignol BC 90 waxless telemark ski
There you have it, just remind your spouse of all the bad things you are not spending money on and build your quiver!
Preston is the ski department manager at Kittredge Sports and leader of the test team. He is the physically strongest tester, and likes to ski steep terrain and moguls. For a big guy, Preston has quick feet, and makes plenty of turns. He is also an experienced backcountry skier and teams up with Wes for plenty of spring tours.
Age: 50ish
Size: 6'1″ 200lbs
Favorite Ski: Armada Norwalk
Factoid: Preston has a great voice and loves to sing country & rock.
Tom Cage has been in the ski industry for over 30 years, and is a partner in Kittredge Sports. He has a strong race background, and loves to go fast on the smooth stuff.
Age: won't tell us
Size: not as tall as Preston, but just as heavy
Favorite Ski: Volkl Code Speedwall L
Factoid: Tom is an excellent poker player.
Wes is a part time Kittredge boot fitter and full time Level 3 instructor/trainer at Mammoth Mountain. He prefers natural snow on challenging terrain, and has been known to lap the West Bowl moguls.
Age: 40 something
Size: Short enough to test women's skis, heavy enough to ski  men's.
Favorite Ski: K2 Pinnacle 95
Factoid: Wes writes most of the content on this website.
Brian has been a manager at Kittredge for years, and is our tallest tester. A true powder hound, Brian is the first chair master, and not afraid to be sneaky about it. Besides powder, Brian prefers smooth snow and high speeds.
Age: older than Preston, younger than Tom
Size: 6'4″ 210lbs
Favorite Ski: Blizzard Brahma
Factoid: Brian is a diehard backpacker who has been all over the Sierra.
Don manages the repair department at Kittredge. He is a smooth and efficient skier with years of experience in the industry.
Age: Proud grandparent
Size: 5'9″ 150lbs
Favorite Ski: Line Supernatural 86
Factoid: Don is a fishing guide in the summer.
Matt helps Preston run the ski department and likes to go fast.
Age: 30ish
Size: 5'10″ 175lbs
Favorite Ski: Icelantic Pioneer 109
Factoid: Matt also rips on a board.
Cara is a Level 2 instructor and part time boot fitter who grew up skiing a small hill near Syracuse NY. She makes lots of medium to short radius turns and loves to carve.
Age: 10 months younger than her husband; Wes
Size: 5'2″
Favorite Ski: Volkl Kenja
Factoid: Cara loves to bake, and is famous for her ginger cookies.
Heidi works part time at Kittredge as a clothing buyer when she is not too busy managing a condo complex.
Age: younger than Cara
Size: 5'7"
Favorite Ski: K2 AlLuvit 88
Factoid: Heidi trains and shows her dog; Merlin.
Stacey is a Level 2 instructor who hangs out at Kittredge Sports.
Age: younger than Heidi
Size: 5'2"
Favorite Ski: Armada VJJ
Factoid: Stacy is all about "One More!", whether it's on the slopes or in the bar.