TUNING & REPAIRS
Get your gear riding like new!
Our highly skilled, certified, and experienced techs are performing overnight services.
ADVANCED, EFFICIENT, & UNPARALLELED SERVICE
Unlike anything, you will find in the city.
Performing full services for skis and boards!
We are offering overnight services.
Looking for our tuning and repair rates? Click HERE to see all of our repair rates.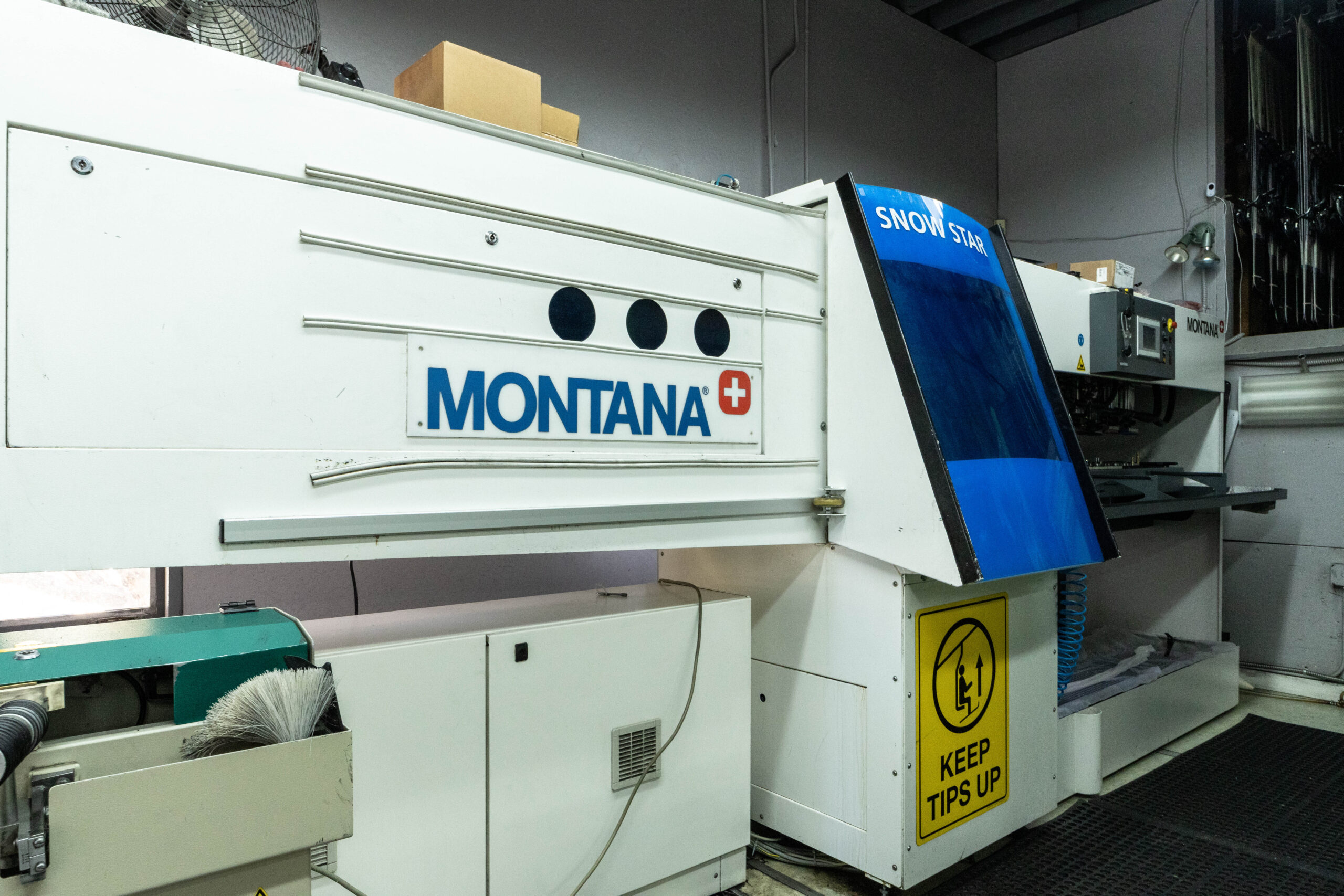 THE MOST MODERN TUNING MACHINES MADE
Our new Wintersteiger edge machine allows us to determine a base and a side bevel by a tenth of a degree. The machine will operate at 2 speeds and 2 different pressures to eliminate marks on edges and achieve a precise polish. In addition, our new machine can apply the correct pressure to rocker skis so the edge is perfectly beveled from tip to tail.
THE ONLY MACHINE OF ITS KIND ON THE WEST COAST
Our new state of the art Montana has hundreds of different base structures from custom to event specific to manufacturer specific. There are only 4 in the country. You can achieve a new base structure for your skis, so they always feel like a brand-new pair. We have a constant flow of new ski mounts and tunes, plus we offer overnight ski tunes and repairs. We also keep every pair of rental skis tuned to ensure quick skis and quality rental equipment.
PROFESSIONAL, CERTIFIED, & EXPERIENCED TECHNICIANS
The repair shop at Kittredge Sports is an integral part of our operation. We take great pride in the service we provide to our customers. We have over 100 years of combined experience in our repair shop. The vast majority of skis and bindings sold at Kittredge are subsequently tuned and mounted in our repair shop. Yes, it is convenient, but it also because of our reputation in the world of ski tuning excellence.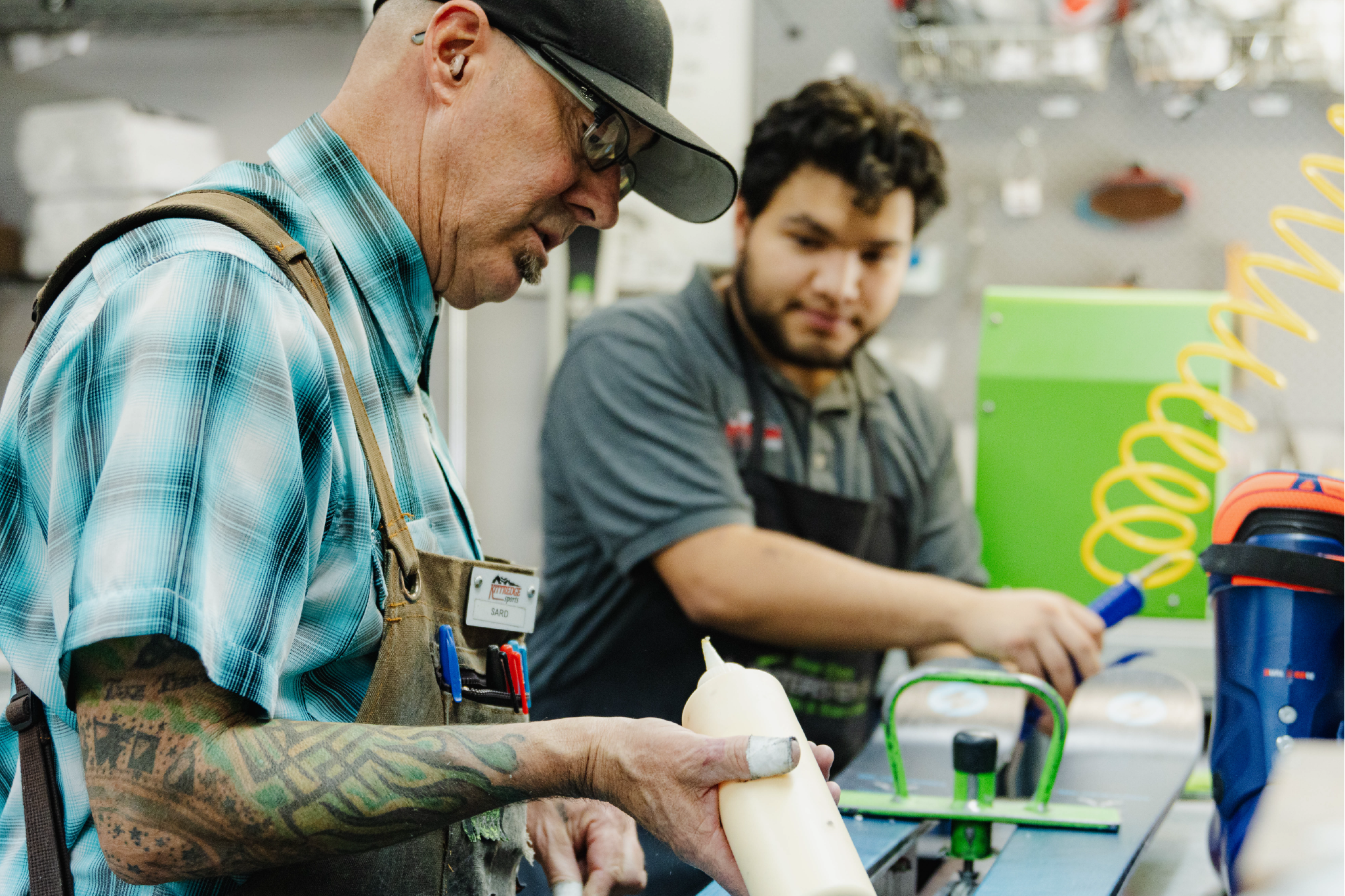 SKI MOUNTING RATES
Buy your

new skis

at Kittredge and receive $10 off of any mount
Buy your

new skis & binding

at Kittredge and receive $20 off of any mount
System Mount (Pre-Drilled)


Install Binding, adjust, test
$65

Flat Mount


Mount, adjust, test, new skis, no plates.
$80 (plus tax)

Plate Mount


Mount to ski plate only install binding, adjust, test (no drilling).
$65

Re-Mount


Remove Binding, plug, mount and re-test bindings.
Add $15

Cross Country & Back Country Mount


No Plates. Bindings to ski only. Otherwise estimate + cost
$55

Tele & Rondo Mount


No Plates. Bindings to ski only. Otherwise estimate + cost
$80
TUNING AND EDGE WORK RATES
New Ski Detail & Iron Wax
Iron Wax and Hand Finish Tips & Tails, Clean
$45
Ski or Snowboard Tune No P-Tex
Stone Grind, Structure/Pattern Bases, Base Edge Bevels, Sidewall Edge Bevels and Hot Machine Wax
(Get it Iron Waxed +$15)
$70

Ski or Snowboard Tune


Stone Grind, Structure/Pattern Bases, Minor P-Tex, Base Edge Bevels, Sidewall Edge Bevels and Hot Machine Wax
(Get it Iron Waxed +$15)
$80
Race Edge
Race Structure, Edge Bevels, Sidewalls, Iron Wax.
$100

Ski or Snowboard RACE Tune
Includes Stone Grind, Racing Structure/Pattern Bases, Minor P-Tex, Base Edge Bevels, Sidewall Edge Bevels and Hot Iron Wax
* New Race Ski with above tune add 1x Hot Box Treatment add on for $30 *

(ALLOW 2 DAYS)

$120

Edge Replacement

Base patch, delam, Estimate per hour.

$100 minimum
Side Edge Only
Set Side Edge Bevel Only
$35

Structure Only
Choose and Create Exact Base Structure

* w/ Race Structure $70

$55

Base Welds per Inch


Clean, prepare, weld, and scrape.
$15/inch

Misc. Delam


Estimate by job, time, and materials.
$80/hour

Add Iron Wax

$15

P-Tex & Epoxy  as Quoted

$20 minimum
WAXING & HOT BOX RATES
Machine Wax


Waxing wheel & buffing
$18

Iron Wax


Clean, iron wax, scrape, buff, clean edges.
$30

Deburr by Hand


Deburr edges by hand. Tip to tail. Polish edges. No wax.
$25

Hot Box 1x


One cycle of clean base, apply wax, hot box, scrape, buff, brush.
$50

Hot Box 2x


Two cycles of apply wax, hot box, scrape, buff, and brush.
$90

Hot Box 3x


Three cycles of apply wax, hot box, scrape, buff, and brush.
$125
BINDING ADJUSTMENT RATES
Binding Adjustment


Binding evaluation, adjustment, test & calibration.
$35

Binding Adjustment with Rental Boot


Binding evaluation, adjustment & calibration w/rental of our boots.
$20
DISCOUNTS FOR REPAIR SHOP WORK
TYPE

DISCOUNT

Instructors and Ski Patrol from all Alterra Resorts with ID
30% OFF
Race Teams (ski/freeride/snowboard teams registered with us)
30% OFF
School Teams (Mono & Inyo County)
30% OFF
Master Racers
20% OFF
Military Active
20% OFF
(Entire Family)
Military Non-Active
20% OFF
(Individual)
Full-Time Resident
20% OFF
Local Work I.D.
20% OFF