FLY FISHING THE EASTERN SIERRA
Looking for a fishing guide? Click HERE to see all of our guided trips.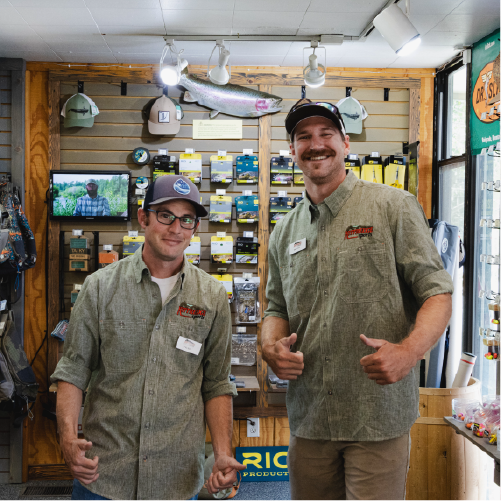 ESCAPE IN THE SIERRAS WITH A FLY FISHING ADVENTURE
Mammmoth Lakes and The Eastern Sierras provide epic fly fishing that will have you catching all day and coming back for more. Kittredge Sports has fishing experts that can direct you to some of the best spots around. Book a day or half-day with one of our world-class guides and really get shown the secrets of the Eastern Sierras!
ALL OF THE FLY FISHING GEAR YOU NEED
Kittredge Sports is loaded with fly fishing gear. Rods, Reels, flys, waders, and anything else you might need to have an incredible day on the water. We have tons of equipment experts on the floor to get you ready for your fishing adventure. Come see us and get what you need for you and your family.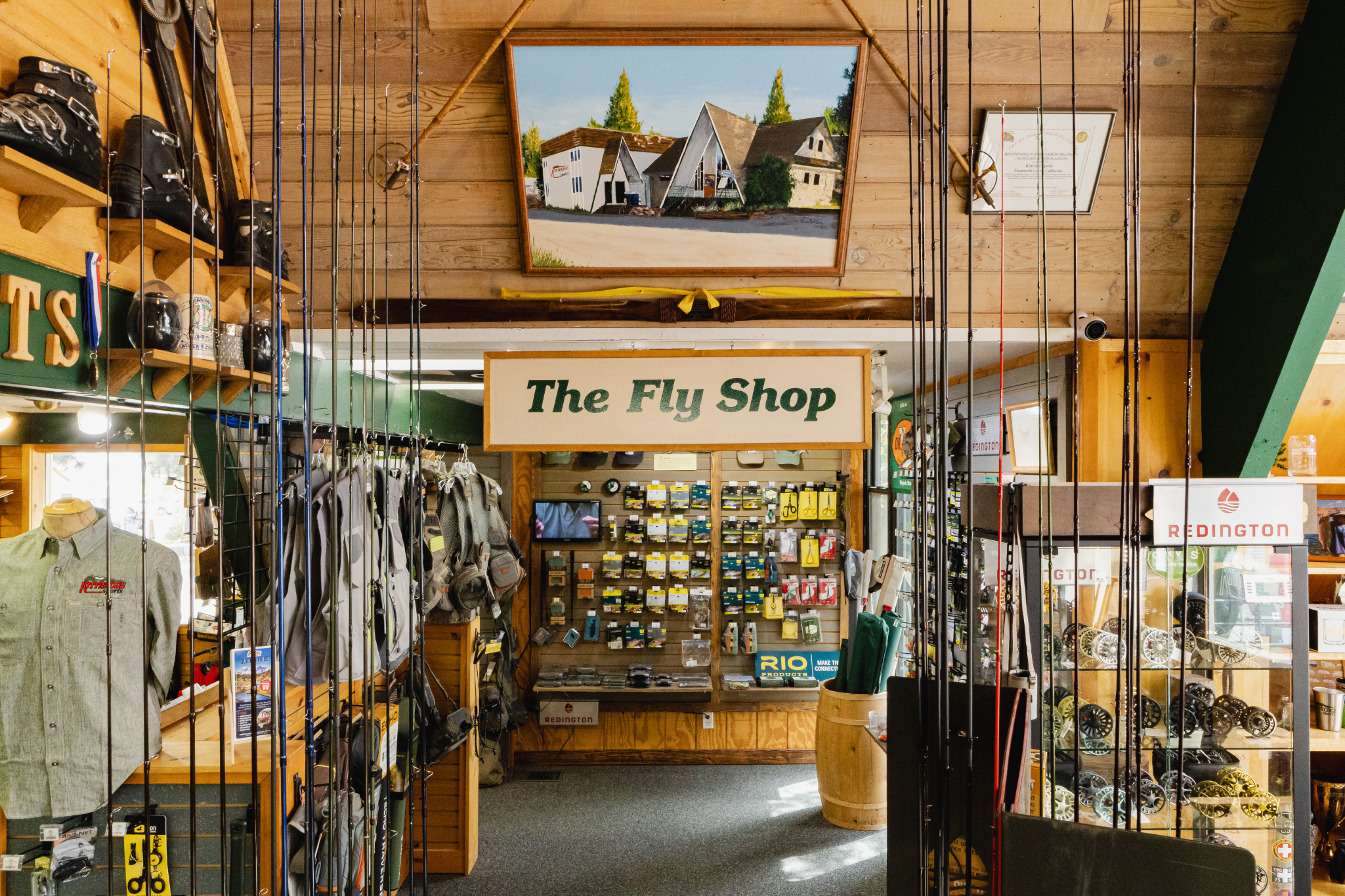 Premium fishing brands we have in-stock!
Brands we carry in the shop include Rio Products, Redington Products, Echo Fly Rods, Orvis Products, Lamson Fly Reels, Outcast Products, Dr. Slick, Fishpond, Solitude Fly Co., Umpqua Fly Co., Fulling Mill Fly Co., Loon Products, Rep Your Water, Tenkara USA, Tenkara Rod Co.
Common fly fishing catches around Mammoth Lakes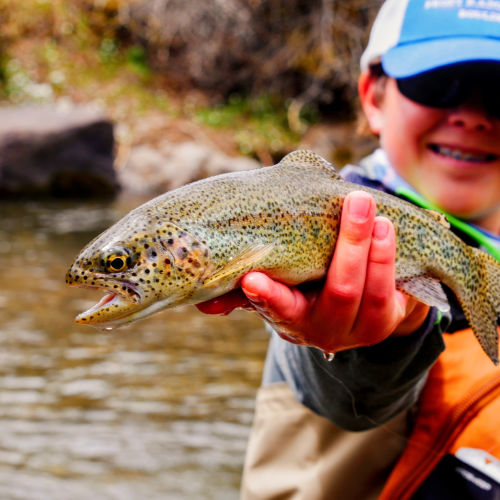 Rainbow trout are widely stocked in the area the most commonly found species in the Eastern Sierra. These fish put up a fun and resilient fight to make for an awesome day of catching with the whole family.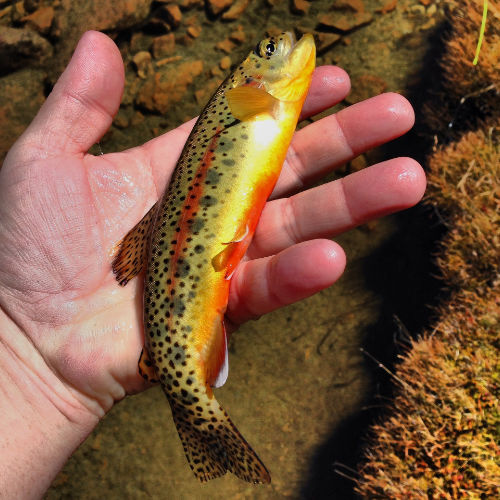 Known as one of the most beautiful fish in the world and native to the Sierra Nevada. The Golden Trout can be found all over the local area and are very rewarding to catch. You have to catch one and see for yourself.
These fish are big beauties that are loved by locals. They are a smart species and can be very picky about what they like to eat. Brown Trout grow to be big & some of the biggest fish in Mono County's waters.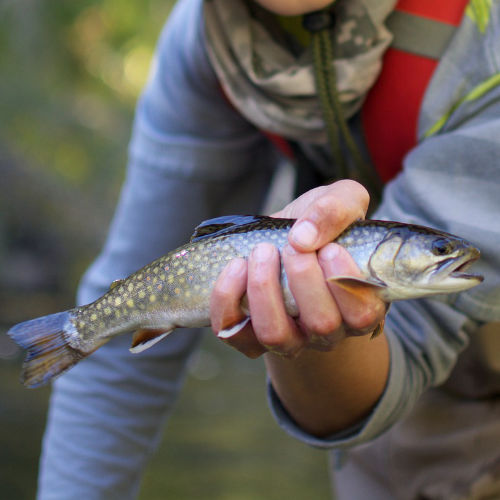 Brook Trout are aggressive and competitive fish. These fish live in the higher elevation lakes around Mammoth Lakes. Very hungry and wanting to be the first to the food, you can throw just about anything in-front of them for a bite!
THE BEST fly fishing SPotS AROUND MONO COUNTY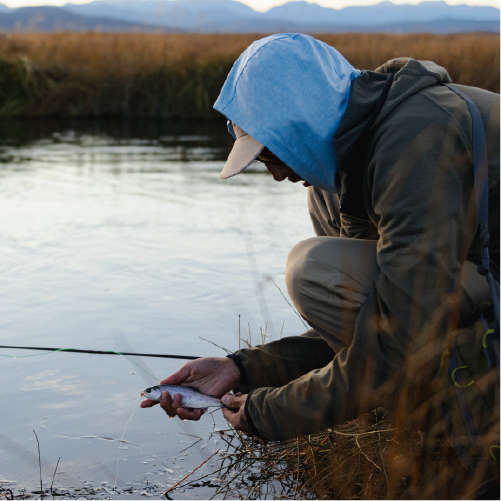 The Upper Owens is an awesome spot to fly fish near town! Off of Highway 120 East, this perfect river has pools, deep straightaways and many oxbows for fish to hang out in!
Hot Creek is a Mono County staple for fly fishing. The stream features high alkaline content creating a ver popular environment for aquatic insects. Trout love it here for the abundance of food.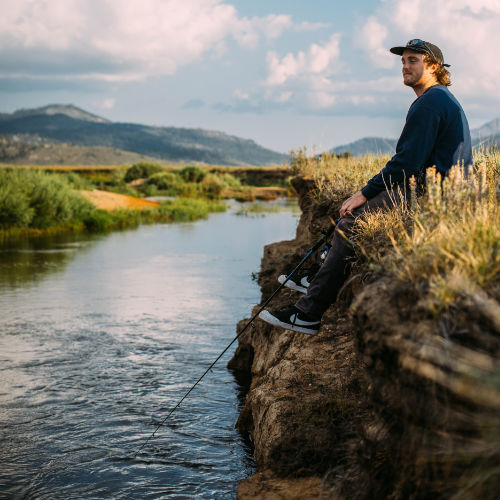 Located just outside of Bishop (and a short drive from Mammoth) the Lower Owen's has an ideal flow for wading. This 3.3 mile stretch is home to LOTS of trout and is a Wild Trout Area.
Not far from Bridgeport, the East Fork of the Walker River is some of the best Brown Trout fishing. The Brown Trout found here are massive and aggressive for an awesome day of fishing.
YOUR ONE-STOP FISHING SHOP
The store is staffed with avid fishermen that can give you up to date scoop on all the local waters. The knowledgeable staff is also happy to help and guide you, so you have the best possible experience during your next fishing adventure. Feel free to contact the shop or just stop in to get the most recent fishing information.
GET YOUR FISHING LICENSE HERE
Kittredge Sports is the one-stop spot for all your fishing needs. We have a full tackle section for the spin, bait, or fly fishing angler. We have you covered from accessories, to rods, to the ideal fishing clothing for this area. Need line on your spool? With our Berkley line winder, you have the options of 2lb, 4lb, or 6lb line. We are also an authorized License Agent for the CDFW and can issue all available types of licenses through the CDFW Internet Point of Sale system.